YAMAMOTO
IMPELLER TYPE HUSKER




MODEL: DM7-M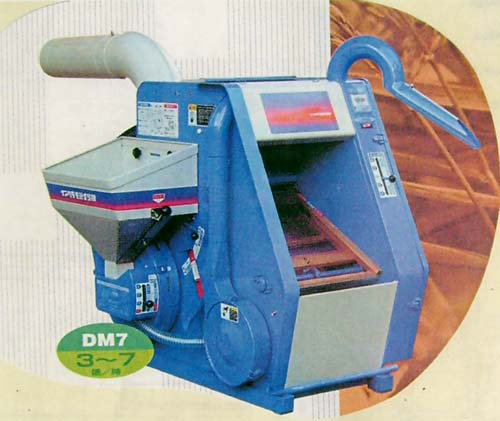 High Husking efficiency
Compact Design
Easy Operation
EXPERIENCED MANUFACTURER OF POST-HARVEST MACHINERY FOR THE CEREALSYAMAMOTO CO., LTD.
Yamamoto Impeller Type Husker
Yamamoto Impeller type husker is a very compact machine which is designed for small scale users. This husker is a very unique design with an impeller instead of using traditional rubber rolls. This allows that even relatively high moisture contents of paddy can be shelled out with high husking efficiency, regardless of any type of paddy, which was always alomost impossible for rubber roll type of huskers.


Characteristics

Compact design
Easy operation.
Ready for operation due to built-in motor
High husking efficiency even high moisture contents of paddy
Easy and quick husking even small smount of paddy
Easy maintenance



SPECIFICATIONS:

| | |
| --- | --- |
| Model Name | DM7-M |
| Capacity | 420kg/h(Max) |
| Screen | 380 mm |
| r.p.m. | 2,400 |
| Power | 3 Phase 200V |
| Motor | 0.75KW |
| Length | 1,861 mm |
| Width | 818mm |
| Height | 1,115mm |
| Weight | 100kg |