WE CAN FIX AND REPAIR ALL MODELS of
MOTOMCO MOISTURE METER PRODUCTS


MOTOMCO, Ins. Model 919 E
Automatic Moisture Meter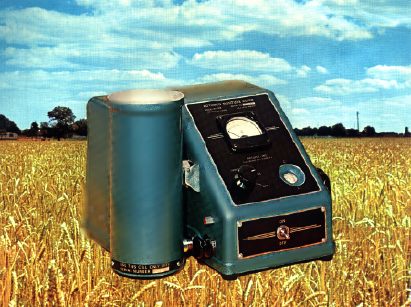 We at Calibration Plus service, repair and calibrate these Motomco moisture meters. These meters are no longer available to be purchased, but we still maintain a stock of parts to repair them.

Designed for the determination of moisture in cereal crops and a wide variety of other products, the Motomco Model 919 E Automatic Moisture Meter, is fully automatic.
The Model 919 E single button operation is simple and easy, requiring almost no training at all.
---
The Model 919 E was designed to perform quick and accurate moisture measurements. For this reason, the operation of theMotomco Model 919 E Automatic Moisture Meter is straightforward, with many operation procedures automatically performed without any interaction from the operator.
Features:
Equipped with a built-in, fast and accurate temperature probe.
No external scale or thermometer is required.
Fully automatic. Determines the correct sample size and sample temperature prior to displaying the measured moisture content.
Single button operation for multiple measurements of the same grain type.
Connects to a printer, personal computer or interface printer (as shown) to obtain a permanent record of measurements performed.
Power Supply available in 110 or 220 Volts.
Internal Calibration available for over 250 different types of grains.
Meets 1995 NIST Handbook 44 Specifications.
NTEP APPPROVED. Certificate #96-081.
---

---

Email: calplus@earthlink.net
Calibration Plus
34 W. Hacienda Lane
Woodland, CA 95695
Phone 530 662-7752
Fax 530 662-3998
Mobile, Voice Mail 530 848-2970
---