Truck Probes for All Applications from Gamet Manufacturing Company -- Gamet Manufacturing Co. has been supplying top quality mechanical sampling equipment for grain and other agricultural products since 1937. Our understanding of the sampling needs of the industry make Gamet a very reliable source for truck probes and other types of sampling devices.
Gamet produceds three models of Apollo probes. Each of these probes is available custom fabricated to suit your individcual needs and with a wide variety of accessory equipment. The Model 610A is a heavy duty probe designed for use in facilities with a moderate to heavy volume of trucks. Our Model 17 is designed for use in large terminal facilities and processing plants with very heavy trucke volumes. All Gamet probes are built to withstand many years of use and are the most durable in the industry.
Gamet also offers service after the sale. We have both installation and on site service of our systems available to you. Extensive training of personnel, creating and maintaining a consistent parts inventory and our commitment to our coustomers, makes Gamet the right choice for you and your sampling needs, now and in the future.
Compartmentalized Syle

Upon insertion of the probe into the load, the internal tube rotates 180 degrees, allowing material to fill into the 4" x 7/8" port openings.

The internal tube rotates the opposite direction, allowing product to flow into the center cavity.

The product is conveyed pneumatically through the probes evacuation cavity. This can be done both during probe retraction or while it is in the load.
[ Click here to see the features and specifications illustrated ]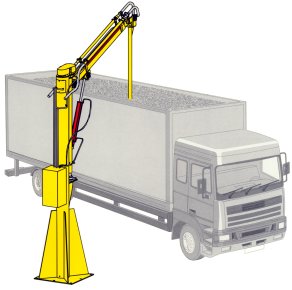 Accessories
8" & 12" diameter traffic signal lights
Video Monitoring systems (B & W and color)
Intercom systems (Stand alone or
for use with video kit)
Excess sample return systems
Ticket return systems
Remote hand held controller
Flood lights
Vacuum systems for unusually long conveying lines
Extra length booms
Core Style

A combination of air and sampled product
flow to the sample collection device.
Properly adjusted, the core style probe
is the most accurate available.