Direct measurement of moisture content of paddy, brown rice, milled rice, barley, wheat and naked barley.

No adjustment required even if variety of grains to be measured or ambient temperature change.
Automatic calculation of average moisture content


The average value of measurement is shown in LCD display


All the operation can be done by simply touching the buttons


Should there be much temperature difference between the meter and samples, errors may sometimes occur in the measurement. Leave the meter intact at the testing site for 40 minutes. During this period, the meter automatically detects ambient temperature and will be ready for normal operation.


Clean the electrode, sample saucer and handle top end part by using the tweezers or brush provided, especially after measuring high moisture content of grains. Otherwise, residual residual samples may cause errors and unreliable measuring results.


Do not touch the sample saucer metallic part with your fingers.


Measure more than three times and take the average of them for the final measurement result.


Take out the batteries from the meter when it is not used for a long time.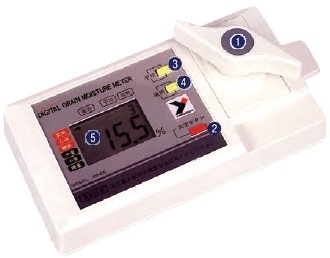 Handle
Measuring Button
Averaging Button
Selector Button
Display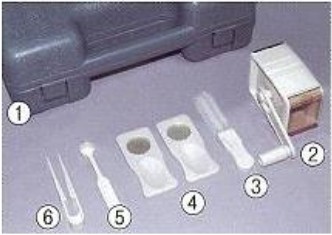 Carrying case
Hand Huller
Brush
Sample Saucer (2 pieces)
Spoon
Tweezers
* 1.5 volt batteries (x4 pieces)