ELECTRICAL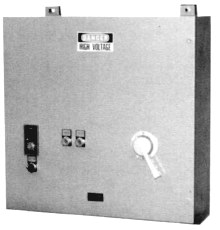 Garnet sampling systems are supplied with NEMA 12 controls. These controls are completely pre-wired with all necessary switch gear to operate the entire system. All controls are supplied in accordance with the National Electrical Code.
As standard equipment, the enclosure includes timer, on-off switch, motor starters for each system motor complete with fuses and thermal overloads, signal lights, transformer to operate the 110V control circuit, capacitors to brake the motor, capacitor relay and terminal block. A clear plastic cover is mounted over the timer and on - off switch. This can be locked or sealed by the inspection agency.
The timer is fully adjustable from 1 second to 10 hours to allow for any timing sequence necessary. An additional feature of the system is its shut down capability. If for any reason the thermal overloads of one motor shut down this turns off all motors in the system. This is done to protect against overloading of individual components.
Optional equipment includes a main disconnect switch mounted in the enclosure with an external on-off handle. All controls can be supplied class 11, group G explosion - proof if needed. Please consult the factory for pricing and availability of these items.
---
GAMET HOME | SERIES 6800S | SERIES 6800L | SERIES 6400
SERIES 6200 | SUPPORT EQUIPMENT | ELECTRICAL
SPECIALTY EQUIPMENT | FGIS REGULATIONS
---

---

Email: calplus@earthlink.net
Calibration Plus
34 W. Hacienda Lane
Woodland, CA 95695
Phone 530 662-7752
Fax 530 662-3998
Mobile, Voice Mail 530 848-2970
---