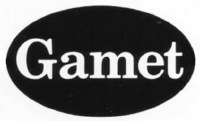 Mechanical Sampling Systems
Since 1937 Garnet Manufacturing, Division of Seedburo Equipment Company has been designing, engineering and manufacturing sampling equipment. From the first manual probe samplers to todays automatic versions, Garnet has always offered excellence in workmanship and performance.

Today Garnet enjoys worldwide recognition with installations throughout the world. Through our international representative network we have supplied equipment to Canada, The Netherlands, Italy, France, Saudi Arabia, United Arab Emirates, Japan, Taiwan, Korea, China, Australia and others. These systerhs are being used to sample grains and other flowable dry bulk solids.

Garnet equipment obtains samples for use in determining weight, moisture content, foreign material, commodity quality and other factors essential to proper pricing. Thus accuracy is vital. Our equipment is the most accurate available. The Garnet Rotary Divider is the only mechanical divider accurate enough to be approved for lab use by the United States Department of Agriculture (USDA). It is the same unit we use in most of our systems.

Garnet continues to be an innovative leader in the sampling industry. Our expertise allows us to assist customers in choosing the proper equipment for their needs. If standard equipment will not fit we will modify or design a system to meet most applications. Contact our sales/engineering staff with your needs. We appreciate your business and look forward to serving you in the future.
---

---

Email: calplus@earthlink.net
Calibration Plus
34 W. Hacienda Lane
Woodland, CA 95695
Phone 530 662-7752
Fax 530 662-3998
Mobile, Voice Mail 530 848-2970
---