SPECIALTY EQUIPMENT
Model M Sampler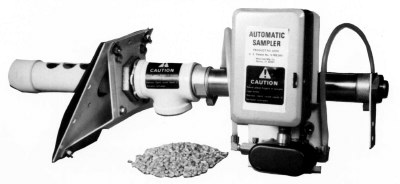 The model M point type sampler is ideal for use in quality control and bagging operations. This unit operates pneumatically and is supplied complete with an air cylinder, pneumatic solenoid valve and timer. It is available in two sizes, 10" and 16". Both sizes operate and mount identically.

This unit samples grain, meal, powder, pellets and other aggregate materials up to 1/2" in diameter. Sampler frequency is easily adjusted and can cycle 12 to 120 samples per hour. Each stroke of the 10" sampler produces 1/2 pint of product, slightly more for the 16" model.

Unit operates on 110 volt, single phase, 60 cycle AC power and 60-125 PSI compressed air. Standard unit is not explosion - proof.
Model B-310 Sampler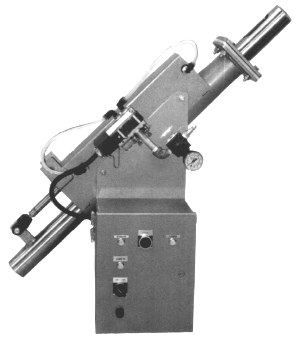 FEATURES

Automatic and manual operation supplied on all units.
1033 Pneumatic/electric operation.
Retractable stainless steel sample collection tube. Dust tight seal.
Available in various stroke lengths (1011 standard).
Explosion proof valve and controls optional.
Mounting kit supplied.
The Model B-310 Sampler is ideal for quality control applications. It can be used with all types of grain, meal, small pellets and other flowable dry bulk solids. Garnet also offers a complete line of support equipment and accessories to complete your sampling system.
---
GAMET HOME | SERIES 6800S | SERIES 6800L | SERIES 6400
SERIES 6200 | SUPPORT EQUIPMENT | ELECTRICAL
SPECIALTY EQUIPMENT | FGIS REGULATIONS
---

---

Email: calplus@earthlink.net
Calibration Plus
34 W. Hacienda Lane
Woodland, CA 95695
Phone 530 662-7752
Fax 530 662-3998
Mobile, Voice Mail 530 848-2970
---